For the first bike review here on Perpetual Disappointment we are going to be looking at a 2015 Saracen Myst DH bike frame. Whilst this frame may now be 5 years old, as you will see, it still has up to date geometry and can make a great second hand purchase.
One of the challenges facing mountain bike reviews is that bikes come in many different specs and price points, but most revolve around the same frameset. This can lead to reviews focusing on the merits of drawbacks of individual components which may or may not be on the actual version that you are interested in. As such this review will focus purely on the frame, geometry , linkage design and ride characteristics.
Design
The frame here is a Saracen Myst Team, the paint job looks like something from a 1994 kids middle-school backpack, but it seems to have held up well, with only a few marks and chips.  The front is aluminium, with the rear chainstay being carbon, meaning overall the frame is fairly light. Cable routing is a little odd, with external on the front triangle meaning unsightly wires through the centre of the bike, but then there is a short internal section for the gear cable on the chainstay. The welds look decent, but haven't been smoothed off like some manufacturers like Giant do. Overall its a decent looking frame, that has aged well, even if it's doubtful anyone would call it pretty.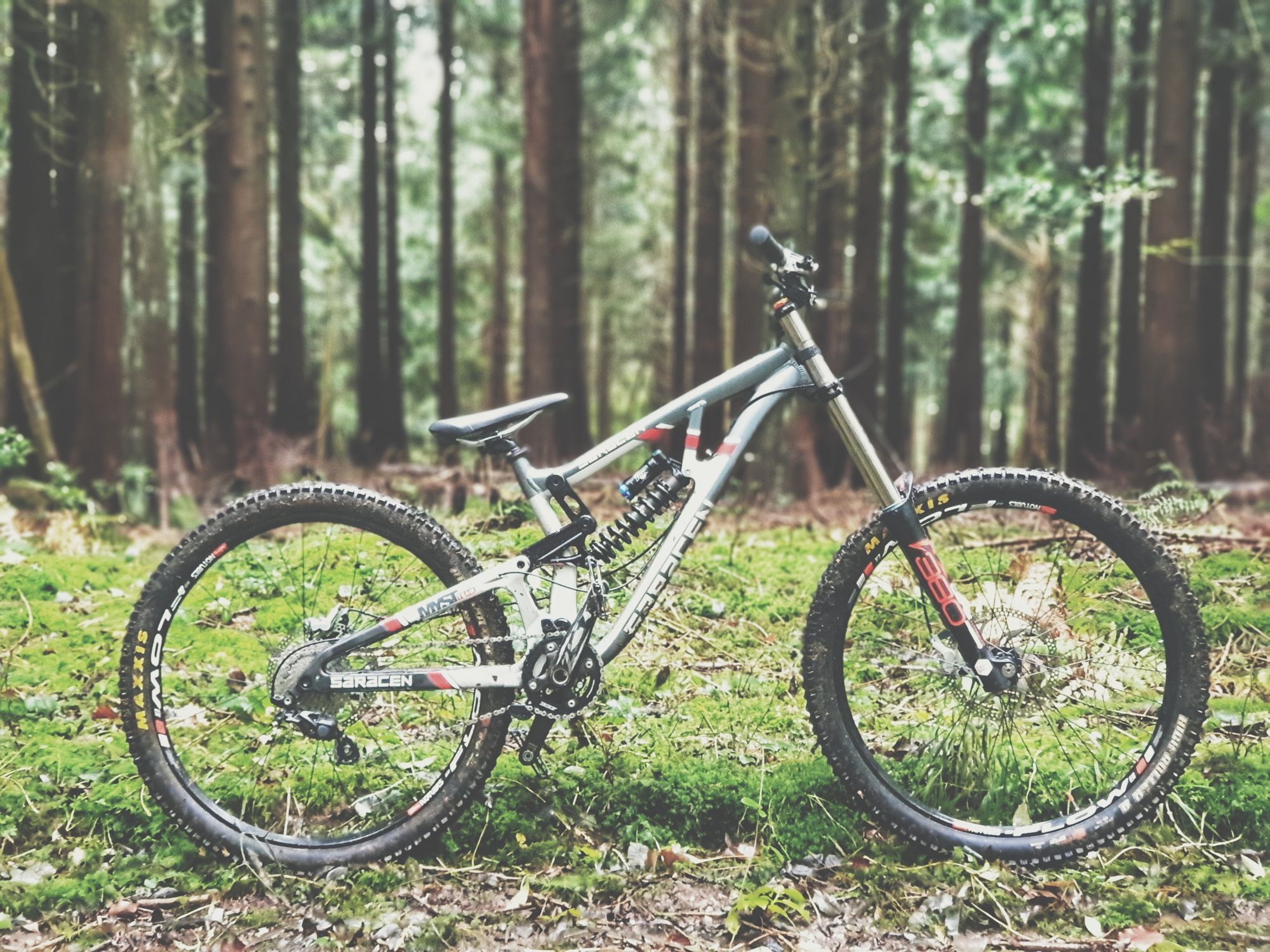 Geometry
The Myst of this period came in 3 sizes, Medium , Large and Extra Large. Despite the changes in geometry over the last few years, the 2015 Myst on paper still looks modern. The 2019 Specialised Demo in its largest size has a 466mm reach, 62.8 headangle, a 2019 Canyon Sender has a 63 head angle, 440mm reach, 430mm chainstays  and 1.232 mm wheelbase on a medium. This means the only thing that may be a little short is the wheelbase by todays cutting edge standards, but going up 1 size would solve this.
| Size | M | L | XL |
| --- | --- | --- | --- |
| Reach | 415 | 440 | 460 |
| Stack | 602 | 602 | 602 |
| Seat Tube Length | 390 | 390 | 390 |
| Top Tube Length | 599 | 624 | 644 |
| Headtube Length | 115 | 115 | 115 |
| Head Angle | 63 | 63 | 63 |
| Seat Angle | 64 | 64 | 64 |
| Chainstay Length | 437 | 437 | 437 |
| BB Drop | +1.5 | +1.5 | +1.5 |
| Wheelbase | 1218 | 1243 | 1263 |
Linkage Design
After riding the frame for around 6 months, we've run it through Linkage to see how our initial impressions and feel matched up to the on paper numbers.
Anti squat
In practical terms, a high anti-squat value (above 100%) is beneficial when accelerating , climbing and pedalling. Pinkbike did a great indepth explanation of anti-squat for more information.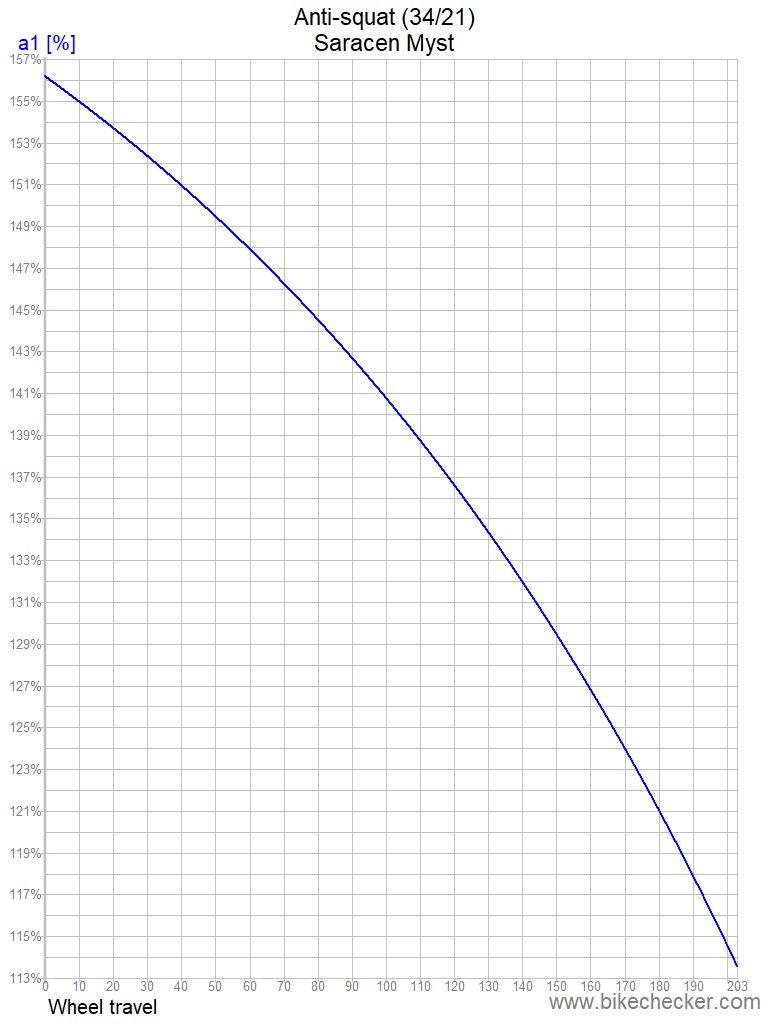 As you can see, the Myst has pretty high anti-squat value throughout it's travel, staying above 100% even at 203mm. This means there is minimal pedal bob when sprinting and the bike stays higher in it's travel when accelerating and when your body shifts backwards over the bike.
Anti rise
Anti-rise is essentially the reverse of anti-squat. Anti-rise is the frames ability to resist extension when your body shifts forward, for instance under braking.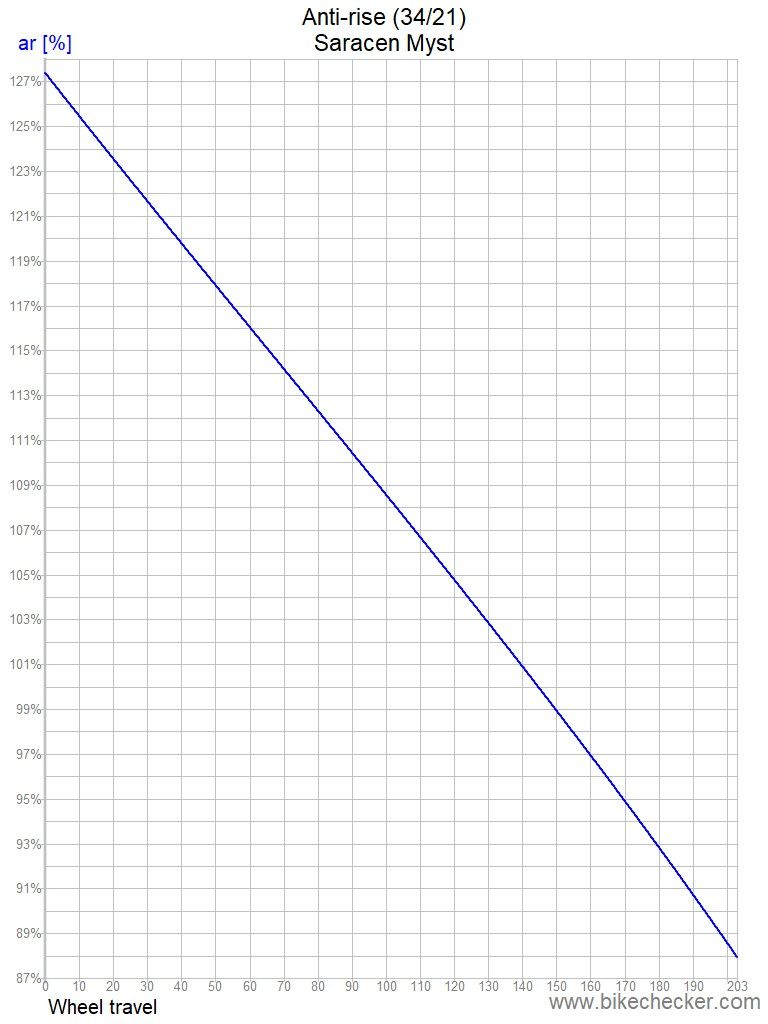 Again, the Myst has fairly high anti-rise characteristics, which means that when braking the bike keeps its shape. However this does mean that the suspension may stiffen up more as the riders mass shifts forward.
Leverage ratio
A mountain bike fork has a leverage ratio of 1:1. If the wheel moves 10mm, the fork compresses 10mm. Shocks however, work differently and the linkage translates the amount of wheel movement depending on how the frame designer wants the bike to act. On the graph we can see that the Myst starts around 3.37 and ends up about 2.725. This is referred to as a progressive ratio. What does that mean in the real world? It means that as the bike frame compresses through it's travel, it resists compressing more and more. Note that this is separate to spring rate, a 400lb spring on a regressive bike would bottom out easier than on a progressive bike.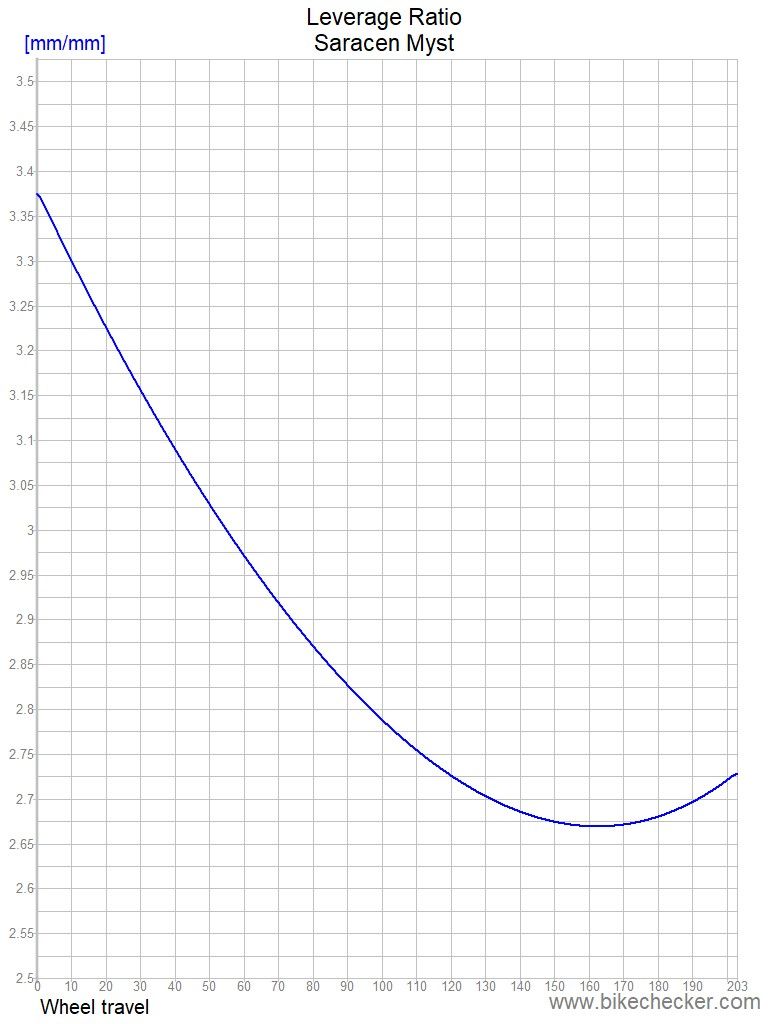 The chart shows that the Saracen has a progressive rate up until around 150mm of travel, and then around 170mm it starts to become regressive. This makes it easier for the bike to use all it's travel and keep things smooth, but does mean that really bike hits can bottom it out easier. This can be countered by having an air shock with lots of tokens in or other bottom out resistance such as bump stops.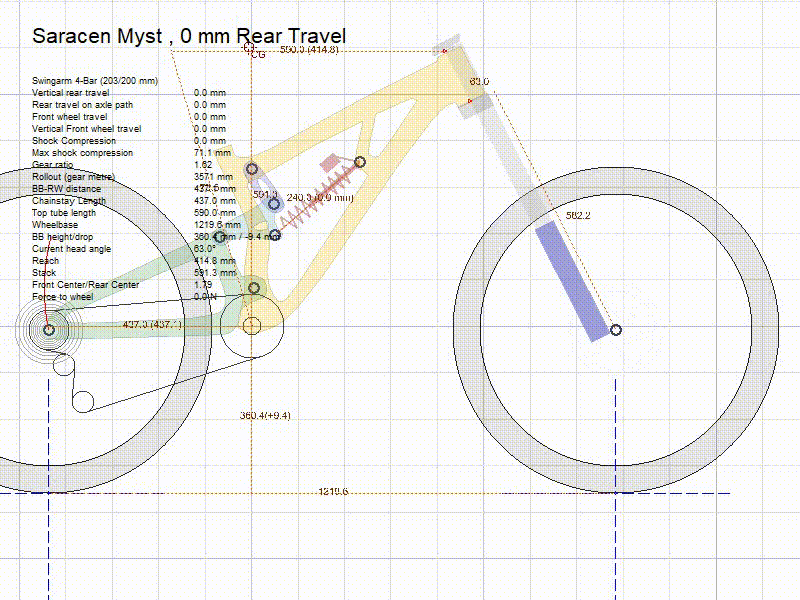 Riding the bike
Enough with the numbers, so how does the frame ride? Overall it's pretty nimble thanks to its no overly long wheelbase and it's easy to position the bike on the trail and switch between lines as required. A 200mm DH bike is never going to pump like a short travel trail bike, but compared to some other DH bikes, there is a good amount of support and feedback from the suspension and it doesn't feel 'dead'. This does mean it works pretty well on less steep and severe terrain, and with fast rolling tyres and a dollop of low speed compression it's possible to keep momentum and the odd sprint doesn't feel like a complete waste of energy like some DH bikes can.
Despite all that, it is still a full on DH bike and most certainly not a 'long travel enduro bike' (copyright Perpetual Disappointment 2020 ). Grip is excellent and the rear tracks great over wet roots and absorbs plowing into Welsh rock gardens with ease.
When jumping and hitting drops, the bike feels stable in the air, however we did find that it would use a lot of it's travel pretty easily on medium and bigger hits. Looking at the charts this is explained by the regressive curve in the last 30mm of travel. This was remedied by increasing the bottom out resistance in the coil shock, but it's not a feature all shocks have, so something to bear in mind. Another solution would be to fit an air shock with it's natural ramp up cancelling out the linkages regression.
Issues
An interesting experience came up when first getting the frame setup. When jumping and dropping we kept hearing the 'bzzzt' of the seat contacting the rear wheel on big compressions. Removing the rear shock we worked out where the wheel was at full travel and pulled the seat up 20mm or so higher to make sure it was out of the way. However, the buzzing persisted. Adding bottom out resistance on the shock solved it most of the time, but every so often we would hear it again. Looking at slo motion video of drops to flat it could be seen that the carbon rear end flexes quite a lot, putting the rear wheel in contact with the seat. It can be assumed that this flex was designed into the frame, and it isn't a fault, as there doesn't seem to be any reports online of the chainstays failing because if this.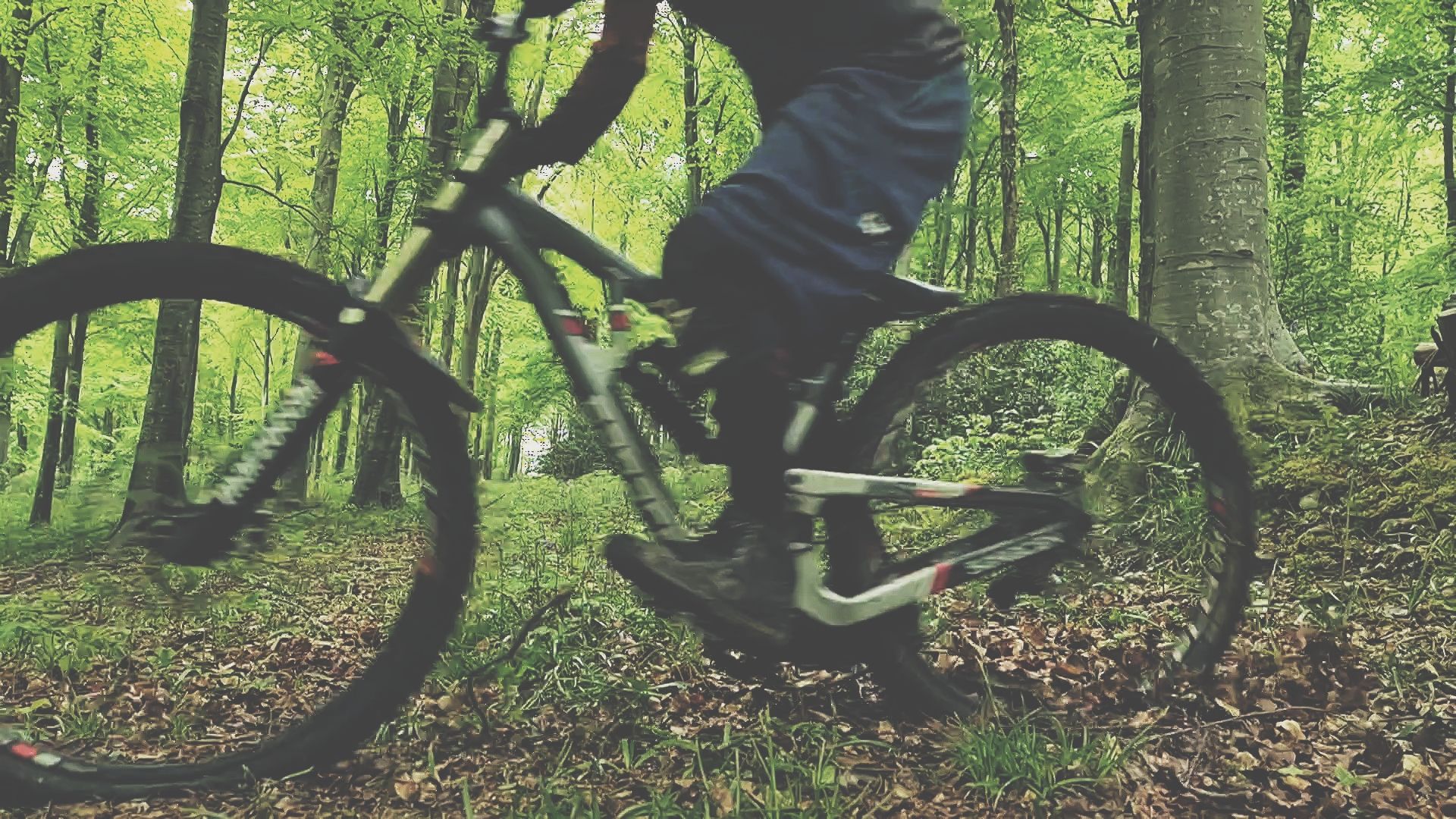 Servicing
The only thing that needs servicing on the frame is the bearings. These are large, and on inspection were running smoothly. Keeping them greased up is easy, with only the drive side main pivot being obscured by the chainring.
Overall
The constant craving for the latest equipment can lead to the idea that - if it's older, it's worse. It's worth digging a bit deeper as with the case of our Fox DHX RC4 review, just because it's a few years old, doesn't mean it's necessarily inferior.
Bike geometry has moved on greatly in the last few years, but when looking for a second hand frame keeping an eye out for designs that were forward thinking, and then perhaps sizing up can give you near identical geo to something that has just rolled off the production line.
The Saracen Myst is precisely one of those frames, 2015 was the first year to have 27.5" wheels, but the frame didn't change that much from the previous years, making it a bargain today. New complete they were £4,899.99, so not a budget frame.
For most people a DH bike is a second or third bike and many end up gathering dust in the garage, rather than automatically thinking you need a brand new bike, take a look at the second hand market and see what you can find.
Save money, consume less, ride more.