Over the last few years there has been a resurgence in coil sprung forks, particularly in mid travel applications of 140-180mm.  Cane Creek offer the Helm in both air and coil, but we went for the coil for that unbeatable sensitivity and simplicity.
Over the 12 months we covered around 1600 miles (2574 km) in all conditions, big mountain epics in the alps, fast bike parks and wet rooty steeps. RRP is £899.00, but we managed to find it cheaper.
Design
With black lowers and stanchions, gold dial and axle, the Helm looks and feels quality. Weight is only a few hundred grams over the equivalent air fork, but that does depend on the weight of the spring used. On the top of the left leg is a pre-load dial, and on the right is low and high speed compression dials. Rebound is adjusted using the dial on the bottom of the lower leg. Overall the fork is well made and feels every bit as solid as offerings from other high end manufacturers.
The decals that come fitted are a bit naff, written in a font that looks like 'HELM' is the name of a third rate MMA fighter. A quick blast with a hair drier and they were easily removed.
Setup
The fork can be adjusted from 130mm to 160mm of travel, in 10mm increments. This is done using spacers and is straight forward. We have ours set at 160mm.
One of the downsides of coil over air is that to change the spring rate, you have to literally change the spring. The forks come fitted with a 9.7N/mm / 55lb/in - "Green" spring, which is designed for riders around 180lbs/82kg in weight. We also ordered a "Black" spring 7.9N/mm / 45lb/in which is the next weight down and designed for people around 140lbs/64kg.
Swapping the spring over is a simple matter of unscrewing the top cap and sliding the new spring in, and can be done in less than 5mins. Riding the Green spring we found it worked best with no compression damping at all, with the Black however we needed a lot to stop it diving and using all its travel, and it then felt a bit harsh.
Before buying the forks we read some other reviews, Pinkbike stated:
[the] relatively firm compression damping compared to a Fox or RockShox product mean that, right out of the box, this is a fork that suits those who take chances and go hard. It also means that it's not the best option for lighter or more timid riders
my immediate impression was that the fork felt overdamped—even with no preload or compression.
We would have to agree. If you want the correct amount of sag, you need to be prepared for a firm ride from a compression point of view. We rode the forks with the Green and no compression for a few months, and whilst it felt great, we would never really use full travel.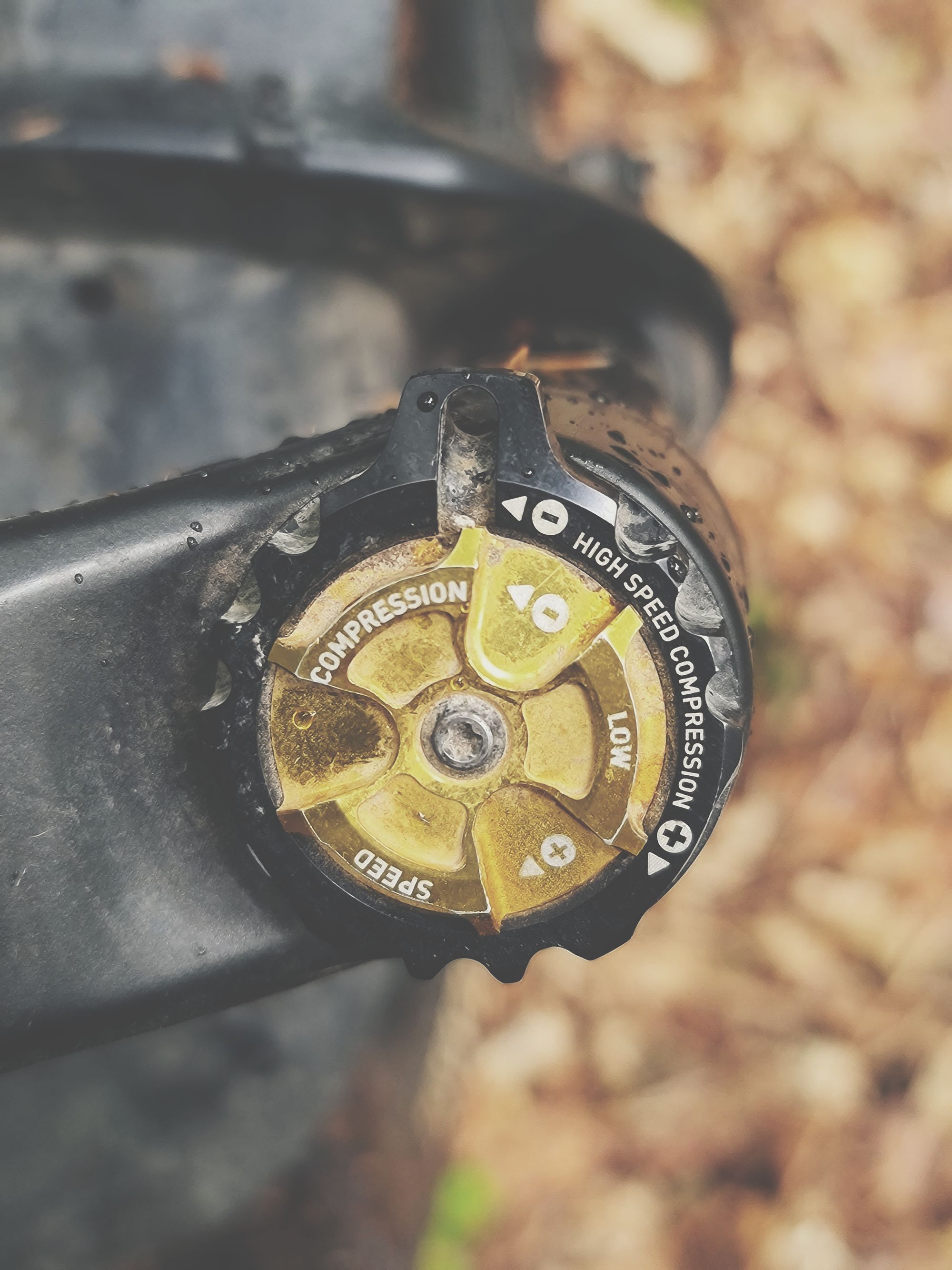 So did we ever get the forks setup how we liked? Yes.
When servicing lowers of forks, we tend to add a little more than the recommended oil just to keep things smoother for longer. Cane Creek say 5-7ml in coil spring leg, 10-15mL in damper leg, we did closer to 15ml and 20ml. This made the fork ramp up even more extremely, to the point where full travel would be impossible. Removing the oil and replacing with the lower end of the recommended amount  made the forks feel perfect. We used most of the travel when required, but it stayed really supportive.
Performance
After getting the forks setup, the performance can only be described as stunning. There is no stichion and breakaway is instant. Small bumps and roots are absorbed better than any air fork we've used, and mid stroke is supportive so you can really lean on the front in turns and it doesn't dive.
Switching back to an air fork afterwards and the 'hole' in the middle of the stroke is instantly noticeable. Getting full travel on the Helms does require a seriously big hit, but thats the way we like at to preserve the bikes shape as much as possible when riding.
We tend to run quite fast rebound on the front, which keeps the bike feeling poppy and makes hopping over obstacles on the trail easier and we would say the Helms feel as lively as an air fork when jumping around.
Many people claim that coil is better than air as it stays consistent on long descents. Even in the alps with >20min runs we've never had an air fork or shock feel like its performance was dropping due to heat, so we can't say if the Helm was any better in this regard.
The chassis feel suitable stiff, and whilst its not as rigid as a full on DH fork, it's inline with the equivalent Rockshox or Fox forks.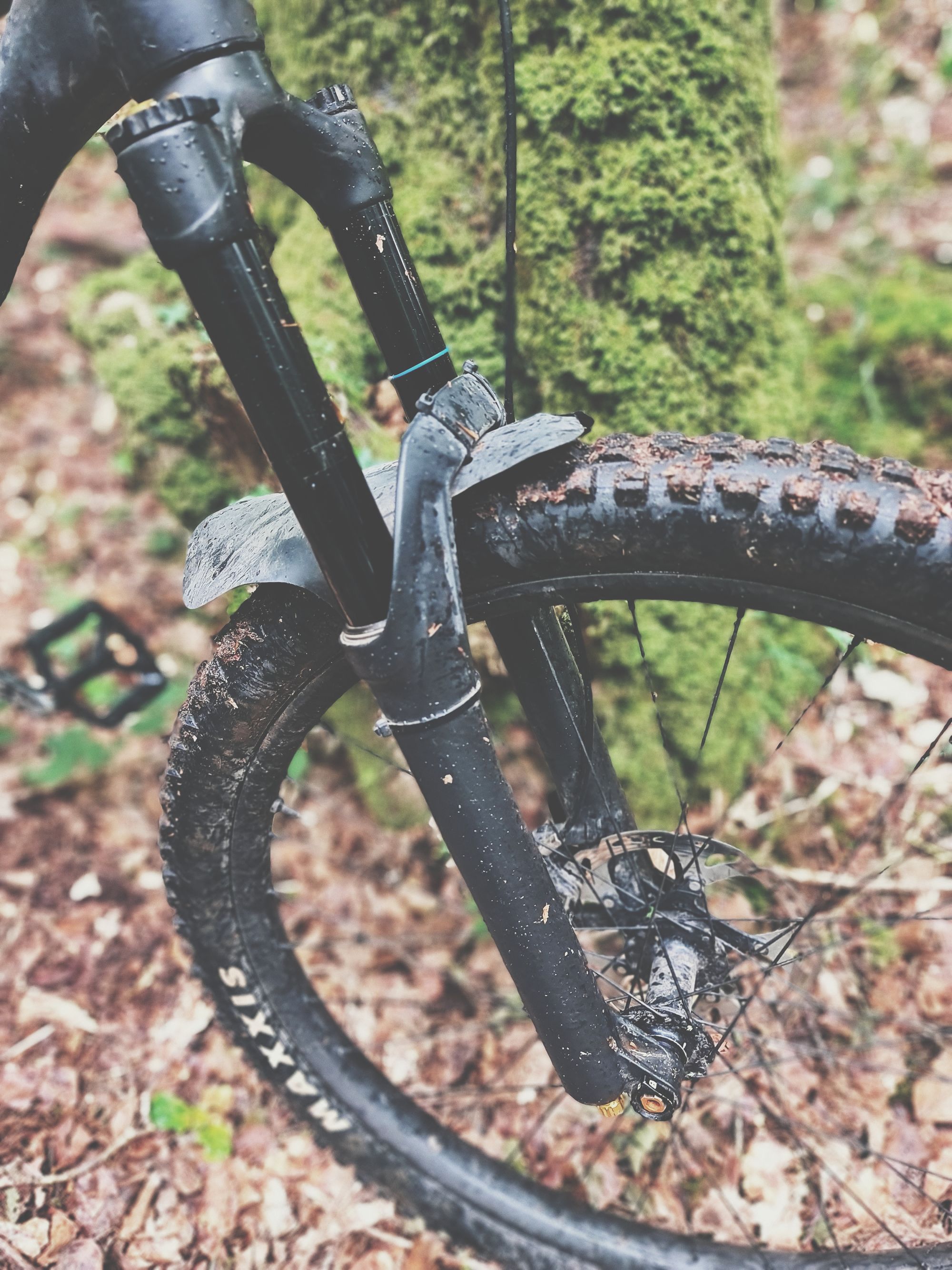 Servicing
Lower leg servicing is straight forward, and Cane Creek have the details on how to do it in the user manual.
Removing the lowers just involves undoing the lower nuts with an 18mm spanner and pulling the legs off. No special tools or micro allen bolts to round off. Lovely.
We found that the seals have held up great, and were clean after a winter of sloppy mud riding, with no contamination noticeable in the oil. A lower leg service can be done in around 15mins.
After around 14 months of use, the damper is still running sweet, with no noises or drop off in performance. Apart from a couple of small marks, they look and feel as good as new.
Issues
We did have a slight top out clunk sometimes, but this seem to go away by just adding a tiny amount of pre-load.
Update 03-21: The damper blew, meaning we had no compression or rebound damping. This was after around 2300 miles, in all conditions , so not bad compared to other forks, but nothing outstanding. It's off to get serviced now but other than that the forks is still running well.
Overall
A combination of good looks, great reliability, simple servicing and pretty unbeatable performance makes the Cane Creek Helm Coil one of our favourite forks of all time.  Not being able to choose spring that comes with the fork as standard is annoying, and does mean for many it adds another £35 onto the price, as well as leaving you with a spring that won't fetch much on the 2nd hand market as everyone has one. It would be nice to have 5lb spring increments as well, as there is quite a jump in how each spring weight affects sag and how the fork rides.
It is worth noting that you can apparently use Ohlins RXF36 springs in the Helms, and they do come in 5lb increments, although we haven't tried these yet.
Overall the Helm Coil is a great fork for all round usage, at a competitive price. We recommend it.