Five Tens are the go-to shoe for mountain bikers, mainly due to there exceptionally sticky Stealth rubber soles. These grippy soles mean that your feet stay in contact with flat pedals much better than generic skate or hiking boots. The downside to the soft rubber is that over time the pins dig in and wear away the soles. We found we get around a year out of a pair of Five Tens of regular use.
Five Ten used to produce their own resole kit for use at home, but it seems that this has now been discontinued. There are other companies however that can resole your shoes if needed, this is around £50-£60 and is better than throwing away your old shoe and buying new ones.
Can you do your own resole though? We thought we'd find out.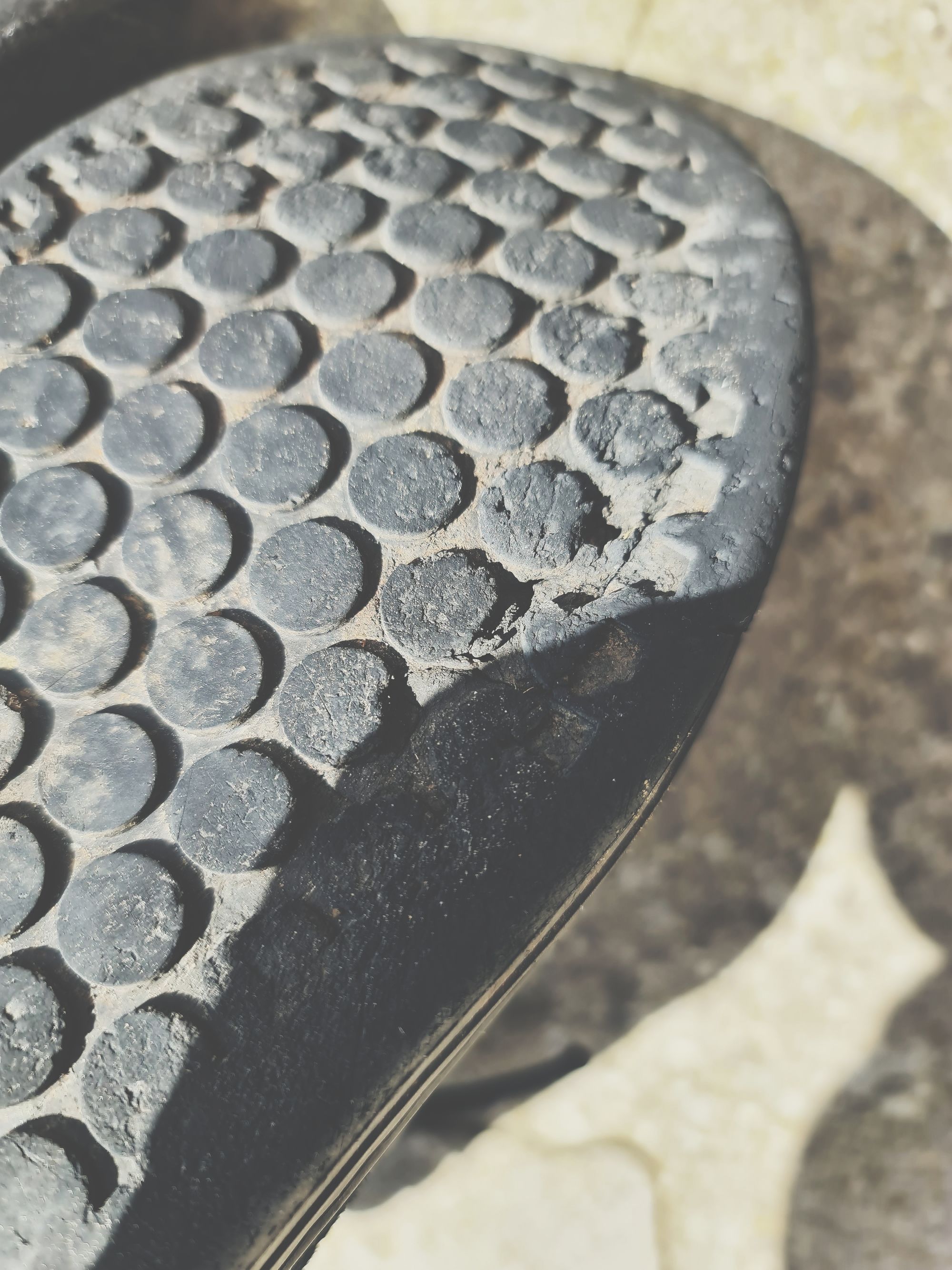 Stealth Rubber Hardness
The first step was to work out: What are shoe soles made from? Turns out for the most part its polyurethane (PU).  
Next we had to work out how hard Stealth Rubber is, Five Ten don't list it on their website, but MBR did list them a few years ago:
Stealth Mi6: 52a durometer.
Stealth S1: 64a durometer.
Stealth Phantom: 65a durometer.
Stealth C4: 76-80a durometer.
Most freeriders come with Stealth S1, so 64a or shore.
Initially we planned on buying a polyurethane rubber sheet in the correct durometer and gluing it to the sole using Barge Cement. We then found out about PU adhesive sealant which looked like a cheap and easy solution. To make sure the sole flexed ok we went for Puraflex 40 polyurethane hybrid-based sealant and adhesive, which is stated as 37a.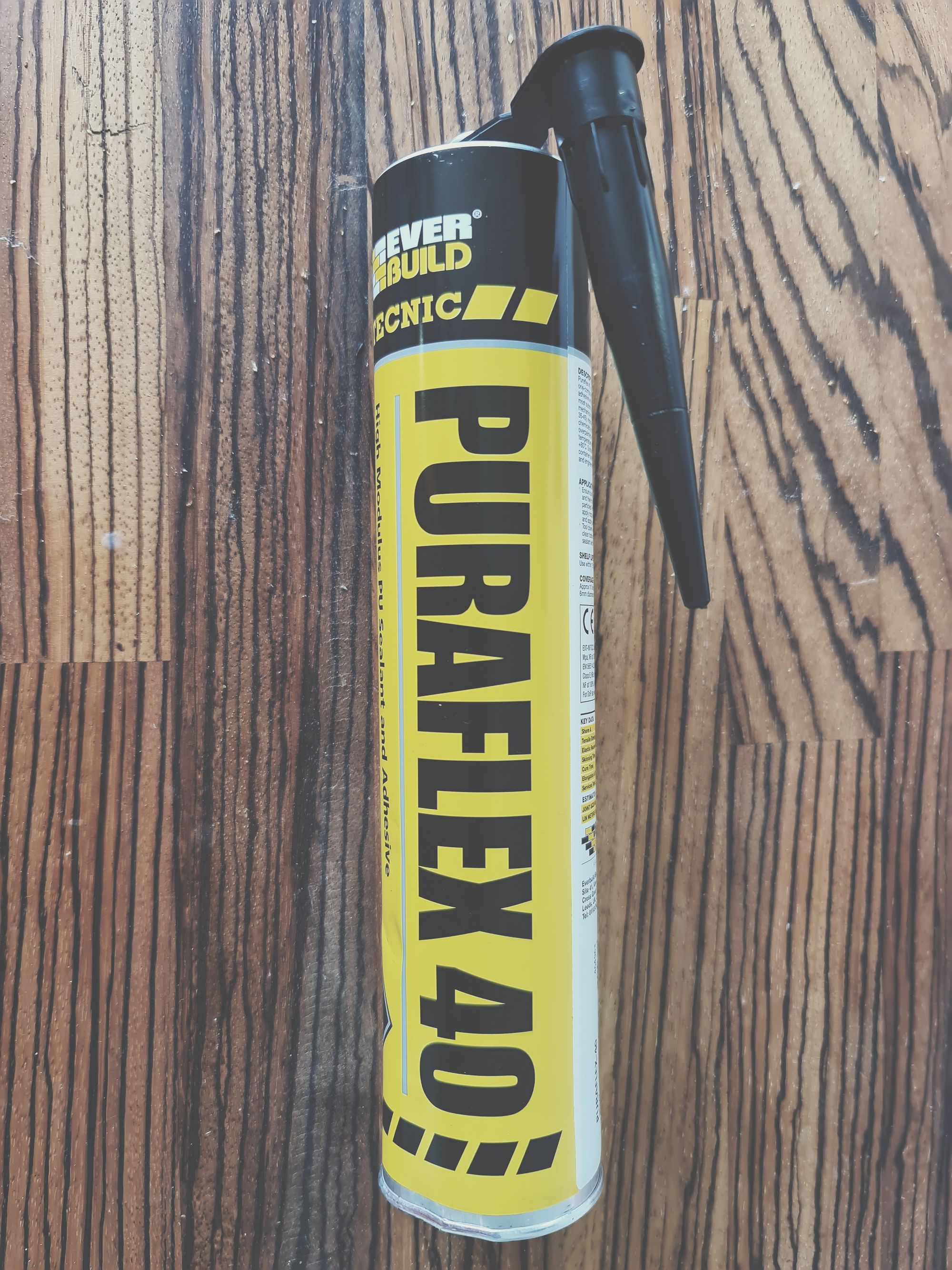 The adhesive and sealant comes in a stick, ready to be used with a gun. One stick was around £5 and would probably resole 3 pairs of shoes.
Applying the PU sealant
We washed the shoes in the washing machine to remove as much dirt as possible, but didn't bother roughing up the sole with sandpaper.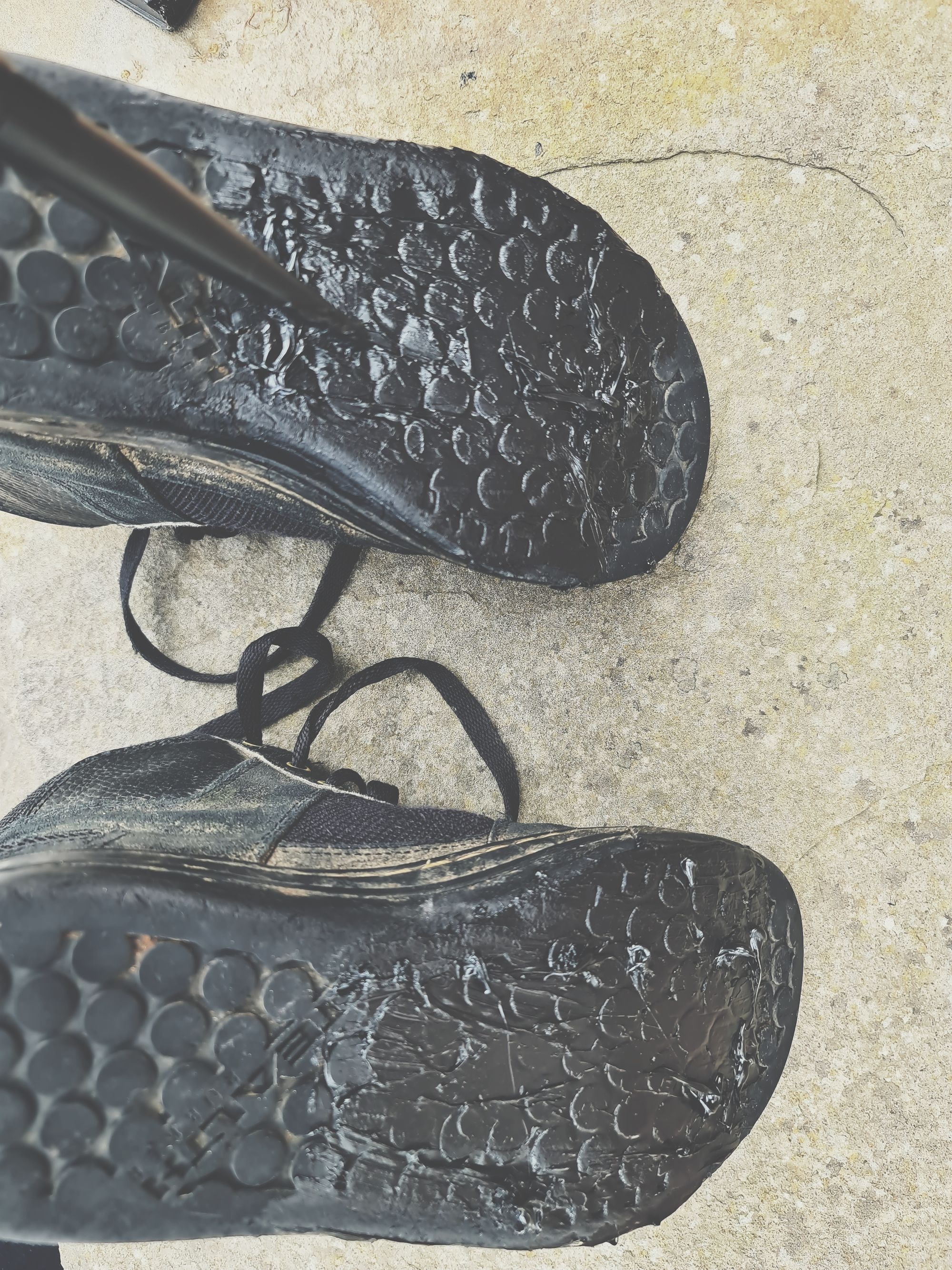 The sealant was spread over the whole sole and then smoothed out to make sure the coverage was even. We ended up with around 3mm of adhesive over the sole.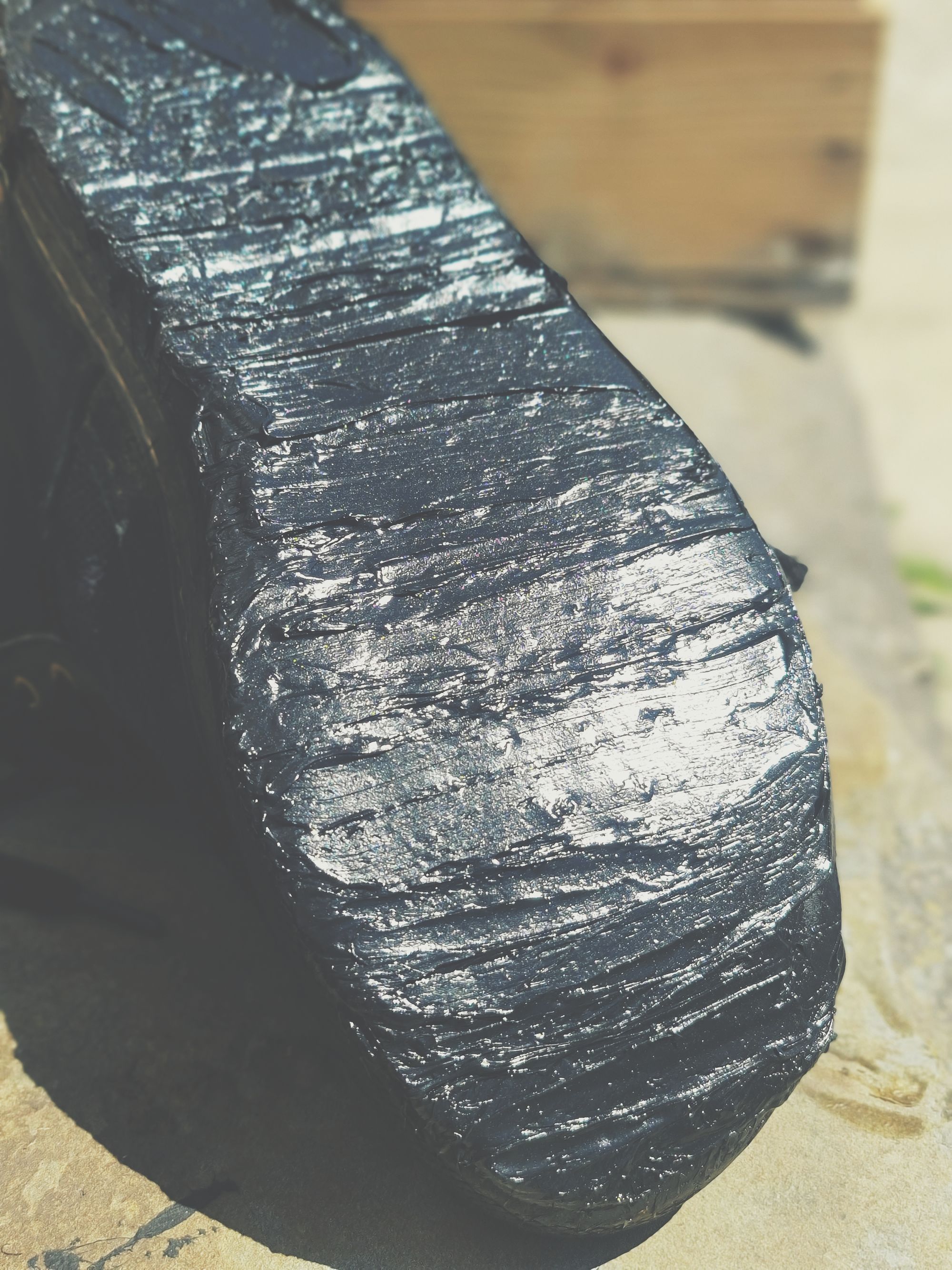 After 48 hours the soles were dry, and very very sticky! They picked up stones and other bits from the floor when we first walked in them, so we brushed them down then walked in some fine dirt to sort of seal them up.
On the bike
So, how did they ride? Really good. Switching from a pair of new Impacts to the repaired shoe, the grip is actually even more on the resoled version, and the pins really sink into the bottom of the shoe. We have had about 6 decent rides in them now, and you can see that the pins have started to take their toll on them already.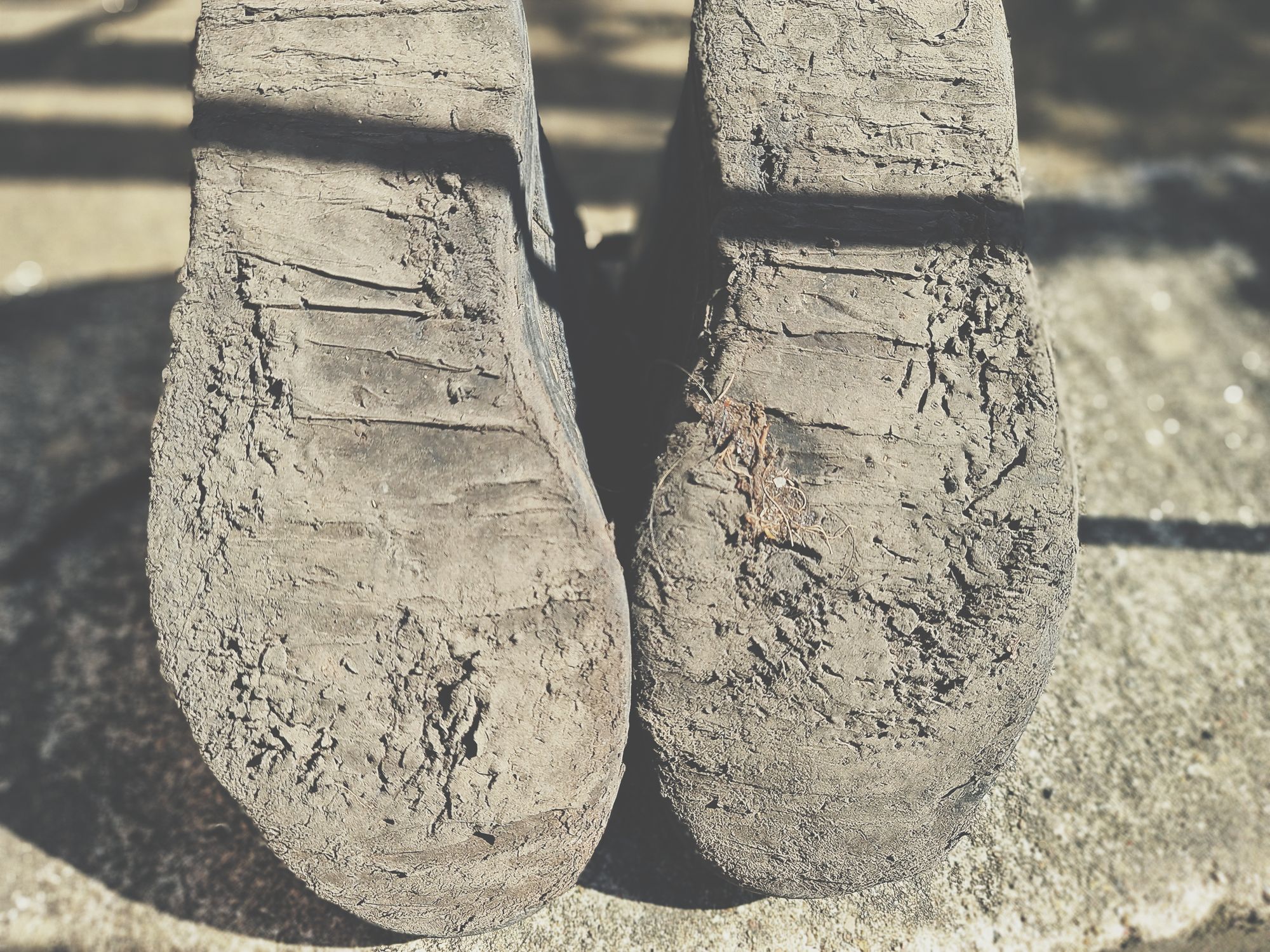 The adhesive has stayed bonded to the sole however, it's just the rubber is maybe a little soft for the abuse sharp pedal pins give them. These were used with very long, thin pins on Kona Wah Wah 2s, and DMR Vaults, so high grip pedals. For those with less aggressive pedals, the damage would likely be less. In the future we will test out a harder sealant between 50a and 65a to see if they last longer, but even as a cheap and easy fix it has been a worthwhile experiment.
UPDATE SEPTEMBER 2020: After about 8 weeks quite hard use, almost all of the PU sealant has now been torn off the soles, and we are roughly back to where we started. A harder compound is needed ideally.