Over the past few years we've seen a rise in the number of coil shocks and forks being used on trail bikes. One downside of coils is that if you want to change your spring rate, you need to buy a whole new spring. Nukeproof over some great value enduro springs that we tried out for 3 months.
One of the great thing about the Nukeproof spring range is that they are available in 25lb increments from 350lb to 600lb, making it easier to get the exact spring rate you need for your particular bike and shock.
The enduro spring comes in a nice box, with 2 plastic spacers and a Nukeproof sticker included. The finish is a nice matte and overall the spring looks and feels quality, with a nice taper at either end of the coil.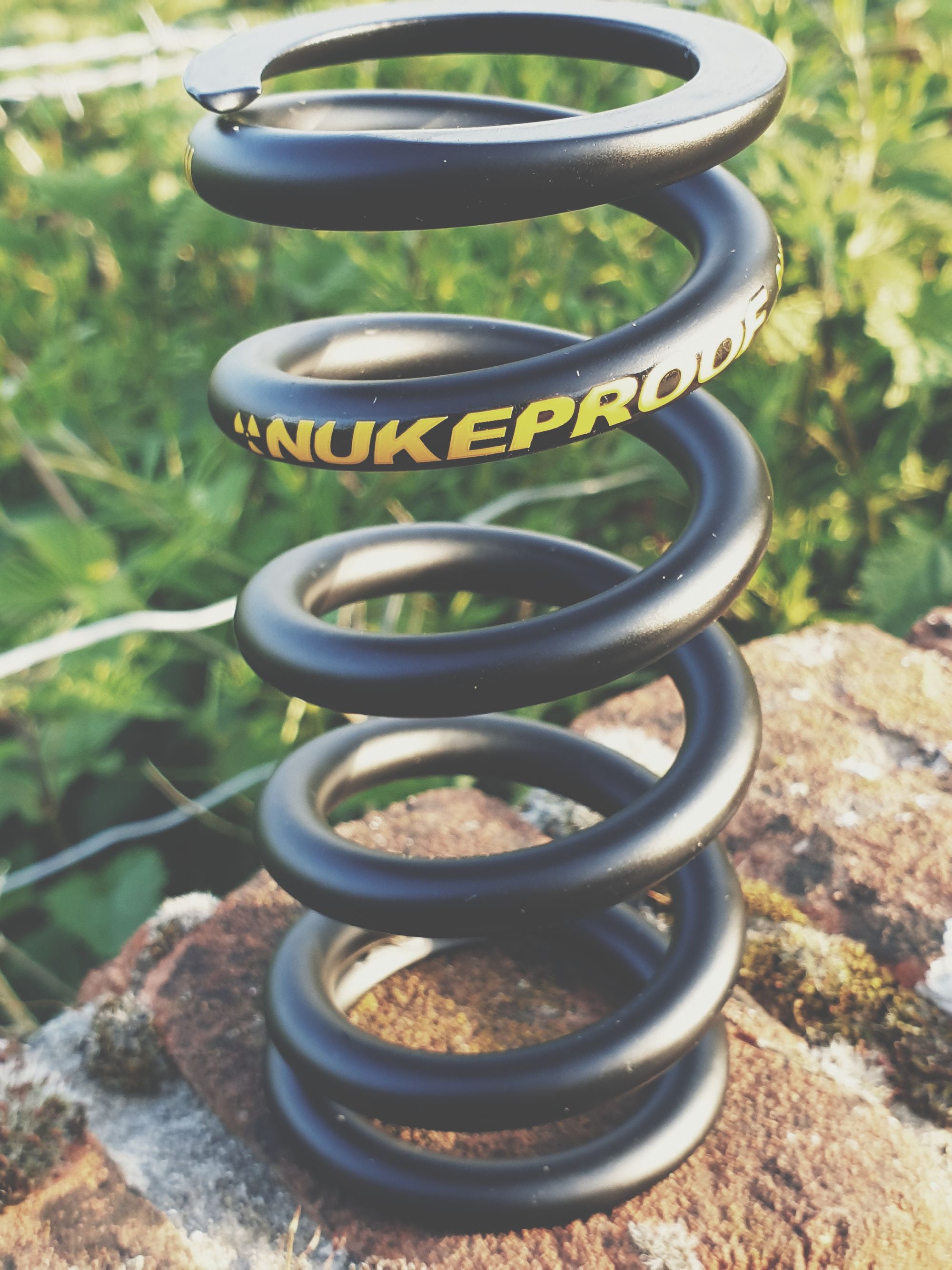 Nukeproof describe there enduro springs as "Superlight", and whilst they are lighter than a standard steel spring, they are not as light as a Fox SLS or titanium spring. Our 450lb 2.25 came out at 318g (claimed 313g), a Fox SLS in 2.25 comes out at ~215g, however the same size Fox steel is 360g, so there is some savings with the Nukeproof. There are also reports of the SLS springs not lasting long and suffering from fatigue much quicker than a steel spring.
Overall
Swapping between a Cane Creek Valt and Nukeproof, we noticed no difference in performance (as you'd expect).
The Superlight Enduro springs RRP at £69.99, Fox SLS at £155, Fox steel at £45, so they work out as a good value choice, especially handy if you are between the standard rates and need the 25lb increments. Another option to consider is the Cane Creek Valt range, which RRP at £50, with our 450lbs 2.25 coming in at 344g.