Adidas have had a range of trail running shoes for a while featuring the Stealth sole technology taken from their purchase of Five Ten. In early 2017 they released the Trailcross Protect, probably the most mountain bike specific shoe Adidas have produced. At £130 RRP, we never saw anyone using them, even though reviews were favourable. Recently they have been coming up on sale with big discounts, so a few months ago we purchased a pair. It turns out the reason for the sale was that Five Ten were going to release a new flat pedal shoe very similar to the Protect.
As the Protect is now end of line, we thought it made sense to do a review in case anyone else was interested in picking them up cheaply, but also as a guide whats likely to be expected in the Five Ten Trailcross Mid Pro.
Design
Whilst most of Five Tens shoes are highly mid-90s skate inspired, the Trailcross look more like a running shoe crossed with a wetsuit boot. This look is a bit marmite, but for what they are they look pretty good, the "Trailcross" embedded on the outsole looks a bit naff though.
This slimmed down design though does make the shoe feel like its actually designed for mountain biking, with no unnecessary bulk. The inner ankle has a D30 protector patch, which we loved, as the feeling of banging your ankle into the cranks is very unpleasant.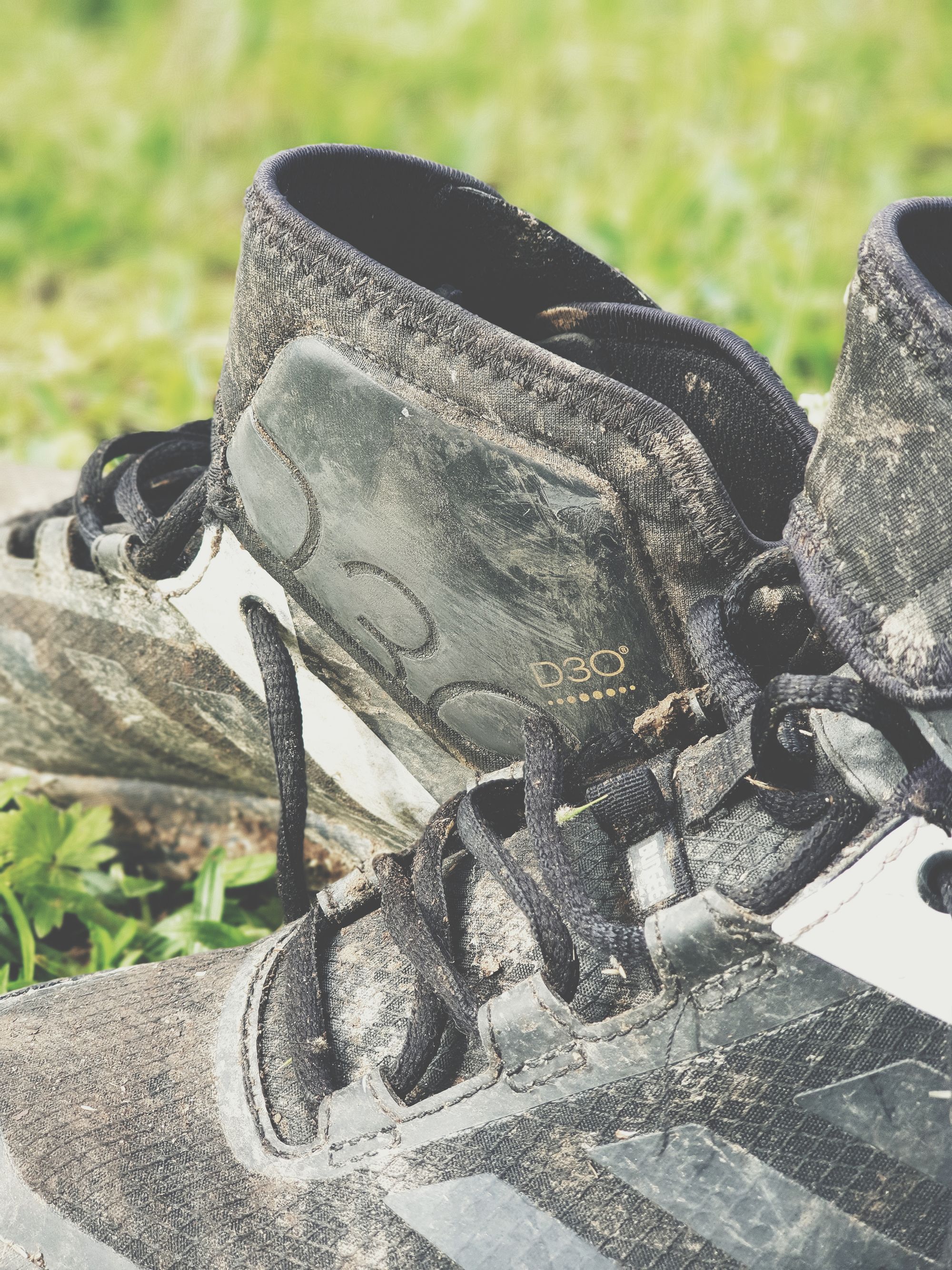 Another great decision is the very thin split tongue. This means that the tongue doesn't bunch up and become uncomfortable as it sits nicely flush with the foot. Locking everything into place is a velcro tab, with the slim tongue this again sits flush and helps keep water and debris out with no gaps. Well thought out and practical. Topping things off is a nice little bungee to hold the laces in place and stop them flapping about.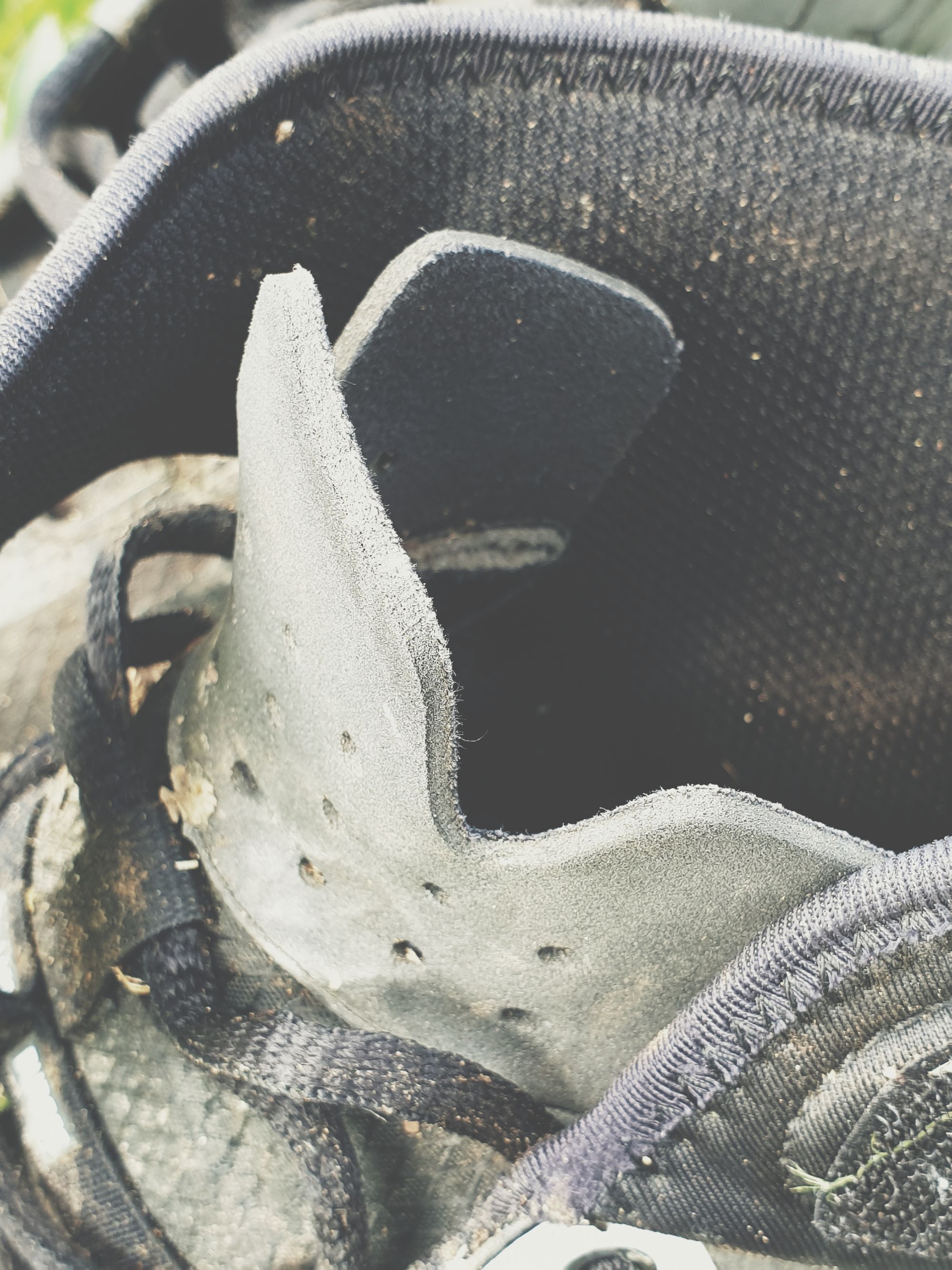 The sole is split into 3 sections, with the toe and heel having chunkier blocks to help with hiking up and down steep or loose trails. Whilst its hard to quantify if this made any real difference without a back to back test, it's a good idea with no real downsides. The centre deviates from the dotty Five Ten design and uses triangles instead, but still gives the same end result.
Fit
Putting on the Trailcross it's instantly noticeable that they fit quite a bit narrower than the Five Ten Freeriders we usually use. Whilst this wasn't a problem, those with wide feet may struggle a bit. Otherwise they fit similar to the Freeriders, nice and snug around the toe box but still a bit of wiggle room.
Performance
Five Ten are rightfully regarded as the gold standard for grip with their Stealth grippy soles. The Terrex also feature Stealth rubber and whilst some reviews have stated its harder than what is found on some of Five Tens shoes, we noticed no difference in stickiness between the Adidas and the Freeriders.
UPDATE 10/20: The soles on the Trail Cross have worn down quite a bit, and switching to a fresh pair of Impact Highs we did notice a slight drop in grip. This seems to be due to the different tread pattern being tighter and so the pins not 'locking in' quite so well, or that the Impacts are wider so have more contact with the pedal, but it also may be because the rubber is actually a little harder than we thought initially.
The thinner nature of the shoes also meant they felt lighter and a bit more breathable than other riding shoes we have used.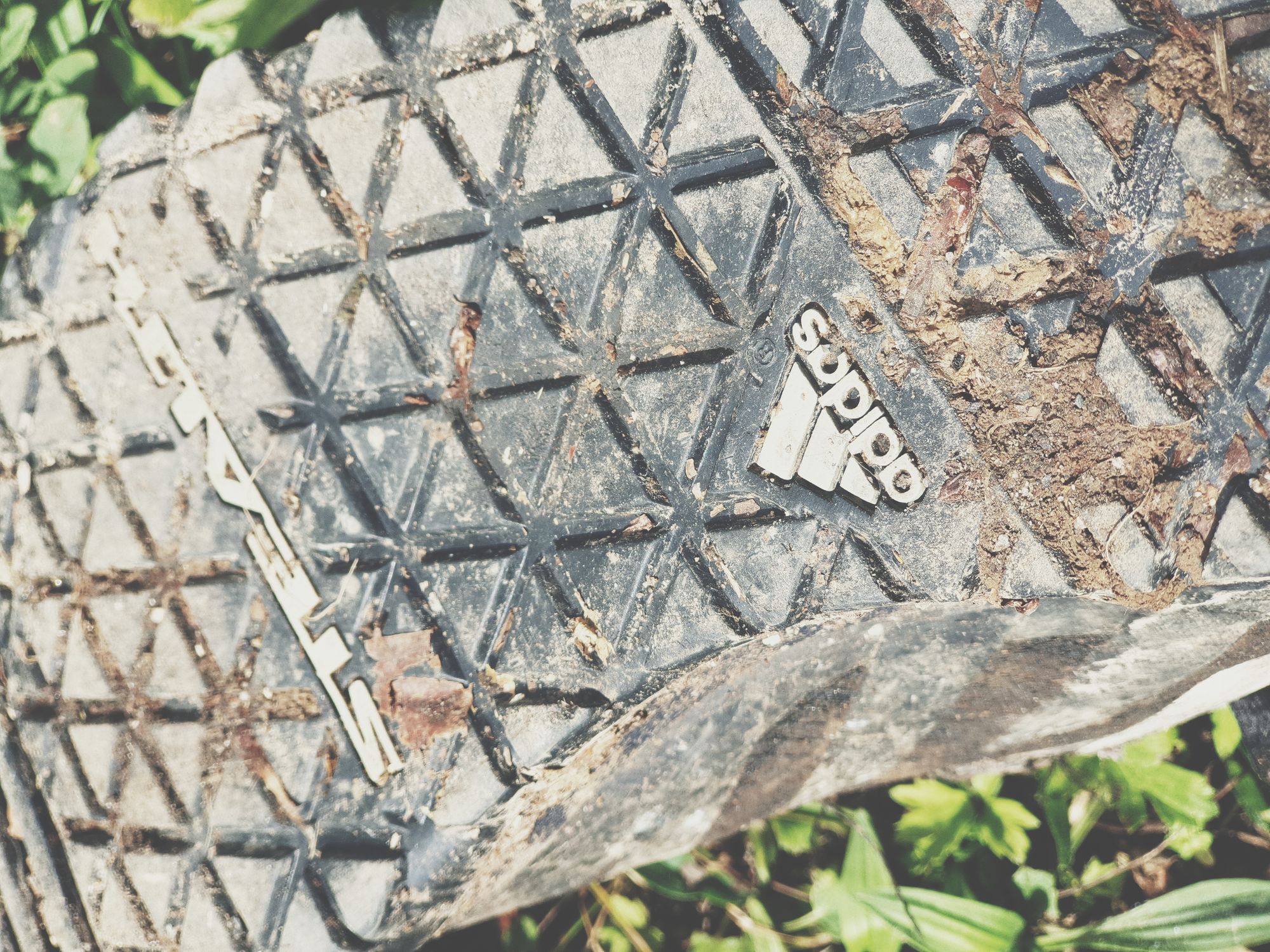 Whilst they are called the Protect, they don't offer any where near as much protection as the bulky Five Ten Impact Highs, although the toe cap is pretty sturdy and we never felt any rock strikes more than in a pair of Freeriders.
Durability
We've ridden a few hundred miles in the TrailCross, including a week in the alps and 5 days in north Wales and the soles show no signs of wear. The uppers too have held up great with no signs of abrasion or stitching coming loose. We will update this post in a year or so with how they are holding out.
Drying
One of the major criticisms of Five Tens is that they take an age to dry if they get wet. The Trailcross don't hold anywhere near as much liquid thanks to the thinner upper, and so after only a couple of hours on a heater they are dry and ready to be used again.
Overall
The Terrexs are not cheap for a flat pedal shoe, but the current sale prices puts them in line or cheaper than pretty much every other flat pedal shoe on the market. Whilst the looks might not be to everyone's taste, they do offer well thought out features that are an actual benefit when out riding. Coupled with the leading sole rubber they are the best riding shoes we've used, working well in all weathers, from big days out to quick local blasts. Hopefully the new Five Ten Trailcross Mid Pro are as good or even better than the Adidas.