Outside of the big 2, there are numerous other smaller suspension companies producing forks and shocks that aim to offer better value, increased performance or additional features. XFusion have had there long travel Metrics in the range for around 5 years now. We tested a pair for just over 2 years on a couple of bikes , using both the HLR and new Roughcut dampers. RRP is £799.99.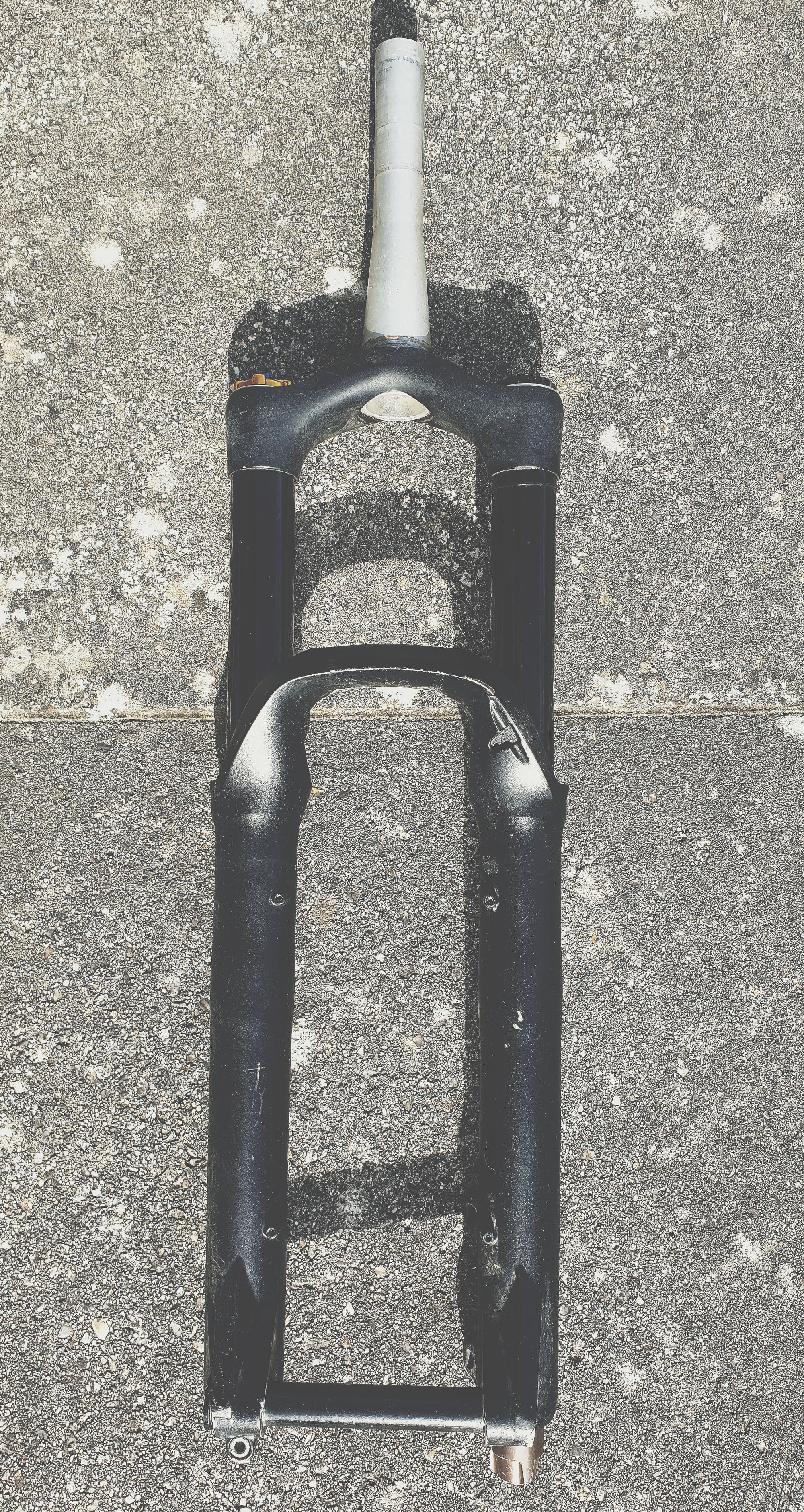 Design
The Metrics feel solid, sturdy and well made straight out of the box. Xfusion claim that they use all metal internals, and whilst they are not as light as a Pike, they do feel more substantial, not necessarily a bad thing when it comes to forks. Stantchions are 36mm, and the travel is adjustable between 160 and 180mm.
On the HLR damper, the red rebound dial is on the top, with the high and low speed compression dials stored away safely under a protective metal cap at the bottom the lowers. This does make on-the-trail adjustment a little trickier, as in general compression is more frequently tuned than rebound to suit conditions. The air cap is removable, but the Metrics don't support using tokens like most other modern air forks. Instead XFusion suggest using a small amount of oil in the air chamber, whilst this works it is harder to add and remove than a simple plastic token.
The back of the forks have a bleed valve to equalise air pressure when riding in high elevation. This requires a special tool which we didn't have so could not test.
The fork lowers are protected by 2 carbon fibre guards, these do look cool and give the fork a burly appearance, but in reality we've never had any issue where lower leg damage has been superficial so they are not that big a deal.
Setup
We ran the forks briefly in 180mm setting, but quickly changed them down to 160mm to better suit the bike, which was 150mm.
Setup is identical to other air forks, increase pressure to get the sag you want, then adjust rebound and compression. The range of both rebound and compression is very impressive, it's possible to go from near lockout to super plush and forgiving, with each click making a noticeable difference. We found this made setup quicker as it was easy to see if things were made better or worse by each adjustment.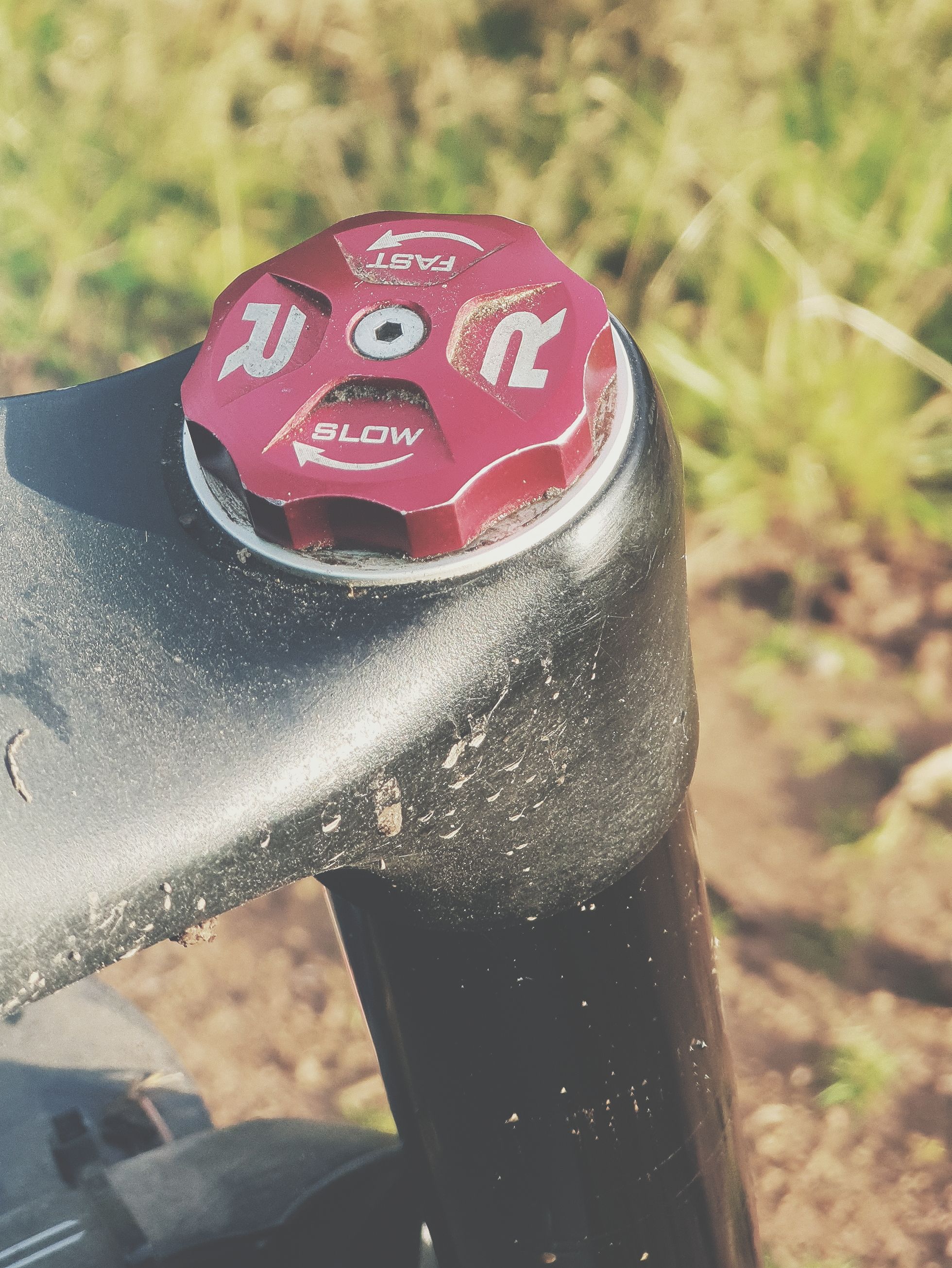 One thing we liked was the 20mm bolt through axle, the forks felt very stiff - more on that later - and it's likely that the chunky axle plaid a part in this. One thing we didn't like was the main axle uses a 6mm allen key to tighten, but the pinch bolt uses a 5mm one. This seems like a silly oversight, and makes removing the front wheel more of a faff than it needs to be, with no foreseeable benefit.
Performance
Almost instantly we were impressed with how well the Metrics held a line when compared to the previous Pike we were using. Whilst not on par with a full on triple crown DH fork, there was a noticeable improvement in how stiff and solid it felt when ploughing through rough sections and rocks.  We recently switched to a Cane Creek Helm, and the Xfusion definitely take the prize for the stiffest single crown fork we have used so far.
HLR Damper
For the first year or so we used the HLR damper, which comes on many of Xfusions forks. Overall this is a solid damper that performs very well. Small bump isn't up to the Rockshox Charger damper levels of sensitivity, but it isn't far off enough to make a difference day to day. Big hits were dealt with well enough and for the most part we didn't have to think about the forks performance when riding.
Roughcut Damper
We later decided to replace the HLR with the newer Roughcut damper. This is a bladder cartridge design, and moves the HSC and LSC to the top of the fork, and the rebound to the bottom. Small bump performance improved over the HLR, but still not quite up to Charger standards. What was interesting is we had to use quite a few more clicks of high speed compression to keep the fork up in it's travel, and it seemed more eager to use the travel. Overall whilst the Roughcut is most certainly better than the HLR, it's not something we would rush out to replace if our fork came with HLR again.
Servicing
Servicing the Metrics is pretty much identical as most other forks on the market, with one caveat. The HLR damper requires a special tool to cover the LSC/HSC dial needle when knocking the lower legs off. It's £10, and you could probably bodge something using a socket, but still annoying. Thankfully the Roughcut doesn't need this.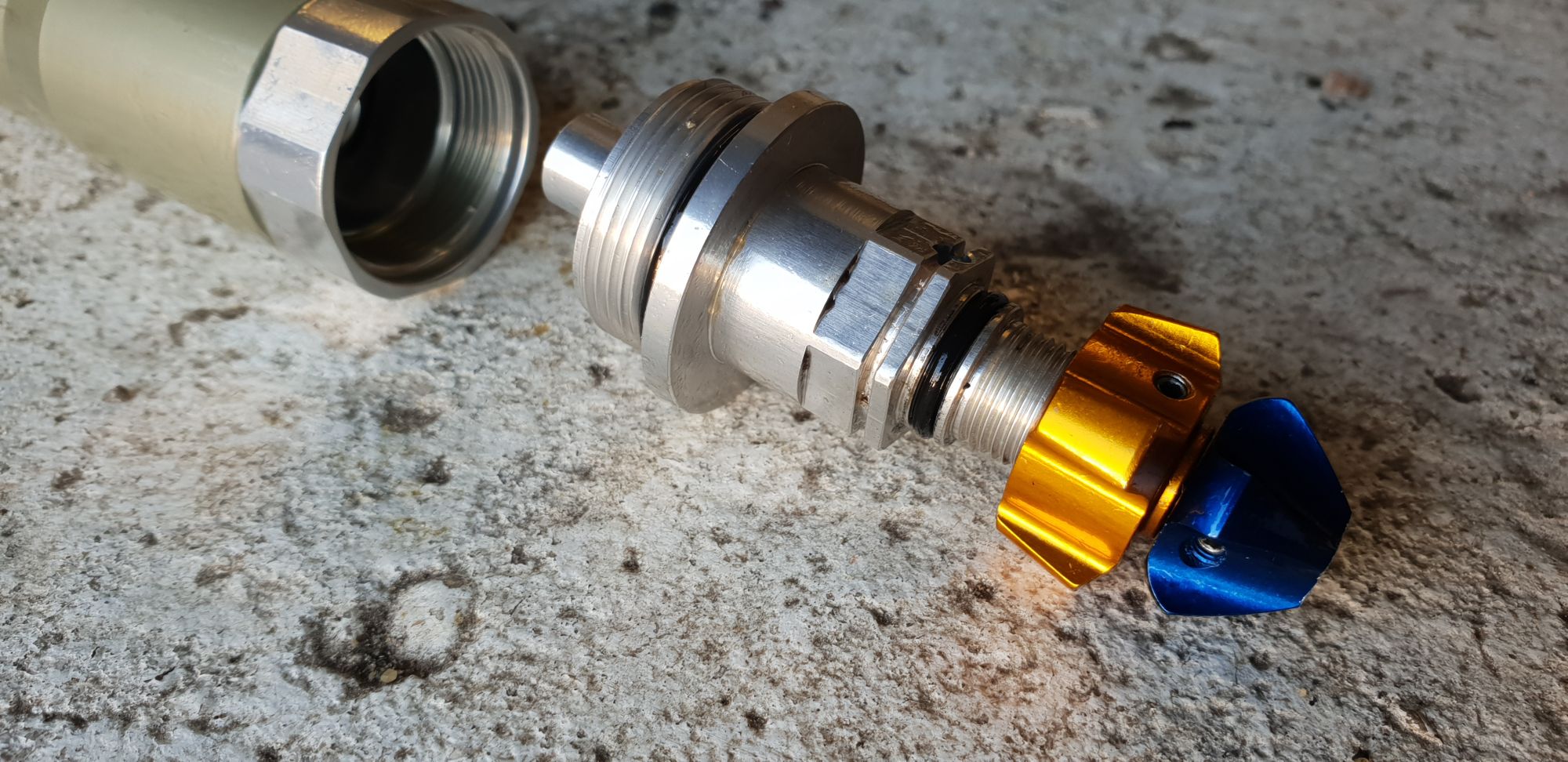 We found that the lower oils needed changing in line with what we've found on other forks, and seals were done annually.
Issues
Our time with the Metrics weren't totally without issue sadly. After around 8 months we noticed that the pinch bolt had developed a crack. A friend had done this to his Fox 36s a while back so we were always careful not to tighten it too hard. There doesn't seem to be a single case of anyone else online suffering from this, so maybe it happened in a crash where the front wheel twisted, or just bad luck. XFusion replaced the lowers under warranty however without question, so kudos for that.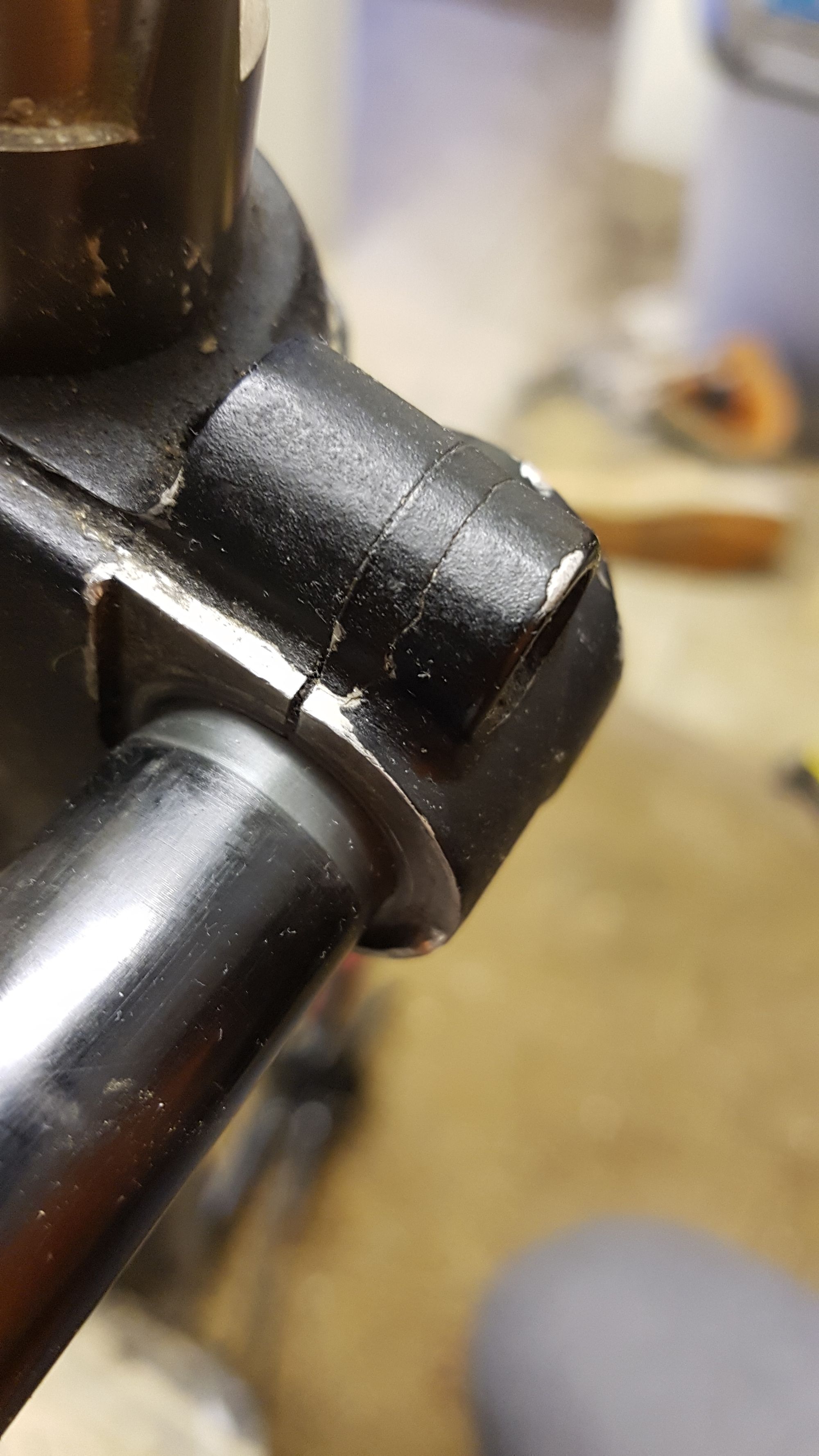 Around 6 months after switching over to the Roughcut we noticed that sometimes the fork would feel very harsh, after a lot of head scratching we came to the conclusion that there was issue with bushings binding. Placing the fork on a step and pushing straight down would feel very very stiff when compared to on the flat. Testing this out with other forks, they all did it, but not to the degree the Metrics were. Replacing bushings is fairly standard service procedure, but this seemed to happen sooner and more severe than we've found on other forks.
Overall
Any fork that isn't a Fox or Rockshox is always got it's work cut out for it. A Lyrik RRPs at £933.00 and Fox 36s are £1000+, so (ignoring discount) the Metrics are cheaper. We haven't had a huge amount of time on 36's , but when we have ridden them, we would still say the Xfusions are the stiffest chassis out of the 3. This does translate to a noticeable gain whilst riding,especially in rocky or rooty sections that try to twist the wheel.
From a damper point of view, even the Roughcut does lag behind a little over the big 2, but only slightly.  
However, and it's a big however, the forks that replaced the Metrics are Cane Creek Helm Coils (review coming soon..) and both forks weigh around the same, and cost the same. Whilst the Xfusions chassis is a touch stiffer, the damper and coilness of the Helms mean it's a pretty easy win for the Cane Creek.
So why would you ever buy the Metrics? Well, they do come up for sale second hand pretty often, and can be bought for around £150-200. At that price they are an absolute bargain, otherwise, the market has moved on, and XFusion need something new to keep up.